FAITH
A High Wire Journey To Freedom
This causes me to think. Ah, I remember.

There is an episode of The Great Adventure that comes vividly to mind. Picture it: Jesus is eating and drinking with a Pharisee when in walks a woman: one of 'those' women. Oh dear, oh dear, oh dear!

Now, John the Baptist had come, neither eating nor drinking, and they said, he has a devil. Jesus comes eating and drinking; they say, he is gluttonous, a drunkard, and is friends with tax collectors and sinners. Truly, wisdom is justified of all her children. Roll tape.

Simon, a Pharisee, desired Jesus to dine with him at his house. Jesus accepted his invitation, went in, and sat down to eat.

Behold!

In walks a city woman - a known sinner - clutching her alabaster box of precious ointment.

She gets down to Jesus' feet from behind, weeping. She washes Jesus' feet with her blinding tears, and wipes his feet with her unfurled hair, and kisses his feet, and anoints his feet with all of the precious ointments in her alabaster box.

This Pharisee is a-gasp. He thinks to himself: This man, Jesus, if he were a prophet, he would have known who and what manner of woman this is that is touching him: She Is A Sinner!

Oh dear-dear-dear! Pause! Sparks will fly in a moment but I must pause to reflect upon this woman who doesn't care one poo-poo what anyone thinks of her. I'm also reflecting on Jesus. He is about to respond to this Pharisee and his response is going to be epic. Ouch! I dare say it's not smart to judge Jesus in front of his face. Probably not that smart to judge Him behind his back either. Anyway! I am reflecting upon this woman, for,

without uttering a word

, she redefined her identity, reframed value, and reinstated the joys of being, seeing and knowing from delightfully new and intriguing perspectives. Not only that! This very second she is inspiring wide swaths of despised, displaced, shutout and shoved aside persons - invisible children - across communities and cultures, inspiring each to reclaim his and her right and privilege to be. Not only that! In that fell swoop, this woman erected a platform upon which

Jesus stands continuously reiterating

: 'they' were never going to be able to and none ever will be able to prevent me from including you, embracing you and loving you with all that I Am. Trust me. I Am That I Am. You are forever welcome.


AWE-SOME!

Now, whenever I come upon a mountain I know it can be moved.


But There Exists A Very SERIOUS QUESTION
Like me, you might be asking: how is such a small woman, alike several otherwise unremarkable individuals we've known or heard of, able to cast such powerfully transforming sparklets of light all across the globe without uttering a word while many other persons mightily more equipped manage only to cast thick palls - scaring humanity and scarring earth with their destructive genius? How do ordinary people accomplish great things? I've got an answer. It turns out to be the very answer to another remarkable question: how do I make my dreams come true?


PASSION
TENACITY
INTUITION
FAITH
IMPROVISATION
'ENCOURAGEMENT'


||


I N S P I R A T I O N


"Let your light so shine before men, that they may see your good works, and glorify your Father which is in heaven. " ~ Jesus

Is it remotely possible that some folks feel obliged to keep sprinkling their much speaking with religious terms gargled with oddly concocted spiritual phrases for fear it is impossible to see their good works by which God Almighty is glorified? Then here's a value-tip: like-minds might be impressed by timely religious jargon and pseudo-holy marfle but God is not flattered.
God does not require it.
God imbues influential leadership with passion, tenacity, intuition, faith, improvisation, encouragement.

These are the kinds of leaders that inspire

. They sparkle. Reclaim the joy of being you; God will be praised.

Oh yes, our story - that paused scene in The Great Adventure - a Pharisee with his nose turned up; a woman with her ointment poured out. I call this next paragraph of the scene, The FATE Of A Sinner.

Roll tape!

Jesus is challenging Simon the Pharisee with a teensy riddle.




Simon, answer me this. A certain creditor had two debtors: one owed him five hundred; the other owed fifty. Neither could repay him, so he forgave them their debts - free and clear. Which one do you think loved him more?



Perfect Answer, Simon. Congratulations. APPLAUSE!




---


Well, Simon, do you see this woman? Simon, I came to your house, you gave me no water to wash my feet; she washed my feet with her tears and dried my feet with the very hairs on her head. Simon, you did not kiss me; she has not stopped kissing my feet. Simon, you did not annoint my head with your oil; she annointed my feet with her most precious ointment.

What would you say about this, Simon, for I say her sins, which you percieve to be many, are freely forgiven. She loves me much. Simon, to whom little is forgiven, that person loves little. This woman is free.
. . .

Oh dear-dear-dear! The whisperings started. Rumors began to spread.
They plotted against Jesus, saying,
Who does he think he is!

"And now these three abide: faith, hope and love. And the greatest of these is love. " ~ Paul
Radio Ahhhhhh!
P. C. Ritch, Esq.
GLOBAL
24 Hrs.
CURRENT R E F L E C T I O N




My Alabaster Box


A Season of Praise
"It Doesn't Matter What They Say."
This is your life; only YOU can live it.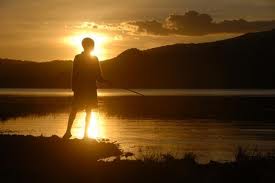 F A I T H

Evidence of things NOT SEEN
Unquestioning Trust
Belief

Because I AM Who I AM

I AM An Awesome God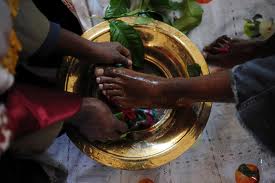 A FEAT UNMATCHED
Because You Are Loved


Because Jesus loved them

He got up from the dinner table,
took off his robe,
wrapped a towel around his waist,
poured water in a basin

then began to wash their feet.
then he took his towel

and wiped their feet.

Then he came to Simon Peter.
And Peter said,

"Lord are You washing my feet?"

Who-ah! I don't know if anyone ever washed your feet - because you're loved that much. It's amazing! I don't know if you've ever washed anyone's feet - because you care that much. It's humbling! But why would anyone take my word for it when that person can inquire with his or her own lips and eyes and ears and heart what Peter did and what Jesus did because of his love . . . then think on these things; lest one misses an opportunity to discover how truly awesome this trust is.


You asked how I bounced back so quickly. Hmm?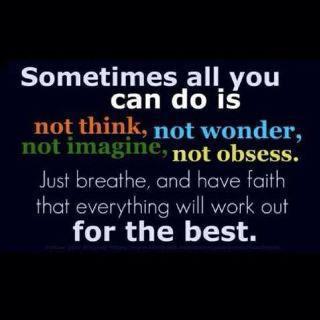 She had four of us at the time and one on the way. He was gone - thank God - but could pop back in any old time and give us the shivers.

By this time, though - through her faith and incredible tenacity, as much as, by sewing, gardening, cooking and teaching - she was able to feed us more consistently. She bought our schoolbooks. A few necessaries were on layaway, and with a stored-up downpayment she garnered a few essentials for our half of the hut. A bed. A table with two chairs. Pots and pans. Utensils. A collection of glasses. A set of plates. Little by little, we'll get a few things for Christmas, she said joyfully. I was just immensely satisfied he was not anywhere near.

But then he came. He took her earnings and went off to pay her bills. He came again just in time to pick up her earnings - all toll to pay her next set of bills - and left to pay them. He was timely returning for money to pay her bills. She was growing heavier in her pregnancy anyway, and had no choice but to let him take the money to the bill collectors, because he was the man of the house. She kept sewing and cooking and teaching, trusting me to pick up more of our gardening. I loved it.

Then they came. Most unexpectedly. They took away everything, despite her pleas. The only other times I heard her pleaing like this I don't want to talk about now. The girls were screaming amidst the rumpus. At seven going on eight years old, I had no idea what Repot Men were - that's what the neighbor called these men - or why they were emptying our hut. The sight of my mother holding onto her belly, maneuvering between the screaming girls, while woefully unable to persuade these bastards to leave us be filled me with a rage I did not know what to do with. Nothing was making sense. And with all my willing for these men to drop dead or fall and break their legs down the stairs they moved about unfettered, like unconscionable bulls.

Now the hut was barren again, but that did not register with me quite yet. I could not take my eyes off of my mother, for I knew she was on the verge of heartwrenching tears and that she was desperately holding herself up to calm the girls down. That took a while. Then she noticed me, the way I was looking at her. She was biting her lip then. I knew she was biting tears, biting on a deep hurt. At noticing me noticing her she did what she had done in times like these before. She came and took my hand and walked me out of the house and down the stairs. I suspected she wanted to talk me out of my pain; that's how I can describe it now. But then! Well!

She walked me into our garden, holding my hand tightly, squeezing it regularly, not having said anything as yet. My rage was bellied tightly, but I didn't know then that that's what it was - rage. I knew she had lost everything; I didn't know why. I knew this was unfair. Grossly unfair. She said my name, a sure indication our 'talk' was about to begin. Just then the rhythms of a Frank Sinatra tune began to waffle through our neighbor's window and into our garden. My mother managed a smile then positioned me for dancing then danced me through our kitchen garden, singing along. This is the song: That's Life.


THAT'S LIFE - FRANK SINATRA

I carried these things in my belly for many, many years. For, that next morning I went aback to water our garden as was my duty. I had been distracted many times by the gorgeous smells and new blooms. While watering I looked around and noticed my mother sitting on the stair, thimble on her thumb, needle and thread in hand, stitching, as if having had her sewing machine taken away was not going to stall her from completing these dresses. She nodded her approval and appreciation of my efforts in our garden. Then she began to sing a song. I turned my back to her, as she was singing; I did not want her to see my tears. This is the song she was singing. I Believe.